Celebrating The Holidays With Baked Goods
By Federal Industries May 2, 2022

The country is in a celebratory mood this year. Customers are eager to reconnect with family over holiday dinners, and they're also not afraid to celebrate life's smaller victories with a good meal. However, people aren't just interested in indulgent comfort food. Tastes are shifting in a more health-conscious and eco-friendly direction. Customers are looking for baked goods that balance flavor with other benefits.
Bakery Trends to Watch in 2022
The pandemic has awakened peoples' interest in food made with ingredients that are both tasty and offer additional health benefits. These include immune-boosting fruits high in vitamins such as citrus and berries. Antioxidant-rich matcha, turmeric, and moringa are also trending in both foods and drinks. Finally, superfoods have officially moved from trendy diet territory to staples that many eat with every meal.
This trend towards healthy superfoods dovetails into an up-and-coming desire for globally inspired fusion cuisine. Customers who have been stuck in place for too long are going on taste vacations. Flavors like yuzu, mochi, and ginger are both healthy and add a twist to more familiar dishes.
Speaking of, comfort foods have been popular for years but they are getting a grown-up makeover. People are looking for throwbacks to their favorite childhood treats, including birthday cake with sprinkles, S'mores, cookies n' cream, and salted caramel. These may be infused with kicky cayenne pepper, whiskey, and smoke, or various spices and herbs like rosemary.
More than ever, people are becoming aware of how fragile our environment can be. This growing concern is showing up in the foodservice industry with an increasing desire for natural, environmentally sustainable foods. Customers are looking for ingredient lists they recognize, clean foods with minimal preservatives, and color additives derived from plant pigments. People are also shifting toward flexitarian, vegetarian, and vegan lifestyles. They want plant-based options that don't sacrifice flavor or break the bank.
Holidays Made For Baked Goods
So many of our major holidays center around the dining table, and fresh baked goods may be the star of the meal. People who are hosting extended family for big holidays like Thanksgiving, Hanukkah, or Christmas may put in orders ahead of time so they have one less dish to worry about. Meanwhile, a forgotten oven timer can send party hosts rushing to their local bakery for a last-minute solution.
Smaller holidays around the year are also busy times for the foodservice and baking industries. Valentine's Day, Easter, and Halloween often bring in special orders for elaborate 3D or seasonal creations. Specialty goods may be in demand for certain religious and ethnic holidays. Finally, it's always a good idea for bakeries to keep cakes in-stock year-round for birthday parties.
Keep Baked Goods Looking and Tasting Great
The right bakery display case can help turn holiday foot traffic into loyal customers the other weeks of the year. Which one is right for your business? Italian glass cases are a classic and classy choice. The glass-on-glass design and stainless steel interior has a sleek look without distracting from the goods on the shelves. Meanwhile, a curved, high volume glass case is a great option for a more casual store. That upper curve means that the best points of top-level baked goods aren't obstructed by a metal frame.
A good-looking display case is only half of the equation. What's the other half? The delicious goods on the shelves. Visual appeal is what gets customers buying. Some common bakery display tips include keeping the case and packaging spotless, protecting the goods from premature loss in freshness, and placing them strategically on the shelves.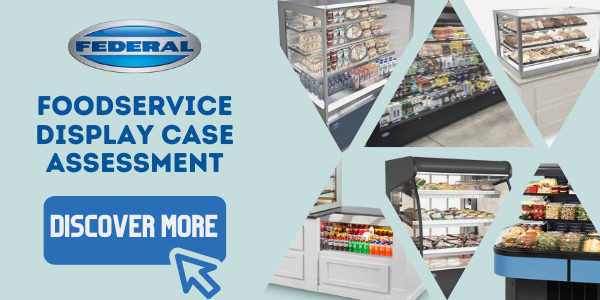 