Dealer Roundup - Heated, Undercounter, Milk, and Italian-Style Merchandisers
By Federal Industries Dec 21, 2021

Providing a variety of merchandiser options can help dealers give options for each customers' situation. Federal Industries can help dealers break down what works best for milk, heated foods, under-counter, and Italian style merchandisers.
HEATED GRAB-N-GO
When many end users think of grab-n-go options, it's almost always refrigerated food and beverages that come to mind. Here at Federal, we realized the importance of having heated merchandisers and their benefits to our customers.
From providing new revenue streams to offering flexibility and visibility, having a heated grab-n-go unit provides consumers a way to have options at your customers' businesses. And with everything pointing towards the continuation of the popularity of grab-n-go programs, making heated merchandisers available is a potential additional profit maker for foodservice operations.
UPSELLING AT THE COUNTER
In c-stores and grocers, the space under the counter is too often used for second-tier magazines, candies, and gift cards. Making it an area that isn't providing your customers with a viable profit center. Enter the refrigerated undercounter merchandiser.
Swapping out stale shelving and replacing it with a refrigerated merchandising potential can generate more profit than a pack of gum. Federal's undercounter merchandisers have sleek, eye-catching designs that will cause customers to make that impulse cold beverage or snack purchase.
IT'S MORE THAN MILK
K-12 school nutrition programs rely on milk merchandisers to help students grab items quickly and keep cafeteria traffic flowing. But don't think that these merchandisers are just for milk anymore.
In addition to accommodating standard milk crates, the milk merchandisers allow school nutrition directors to offer students and staff grab-n-go solutions, fruits, and a variety of beverages. In addition to meeting smaller space requirements, the K-12 merchandisers have easy-to-reach access, making it easier to serve a wide range of age groups.
STYLE AND FUNCTION
Being functional doesn't mean that a merchandiser can't be stylish too. Over the past several years, there's been a significant trend in display and merchandising cases that impact many foodservice areas. That's Italian styling.
Our Italian-style merchandiser combines a modern aesthetic with our American-made manufacturing. By helping to showcase your customer's work, the Italian-style merchandisers can frame the foods, just like a piece of art. Not only helping to sell more product but also providing durability to the merchandiser.
Customers who aren't even looking for beverages or cold food options will draw their attention to Federal's Merchandisers, turning what can otherwise be unappealing areas into profits. Foodservice equipment dealers can be the ones to help operators think beyond the standard shelf.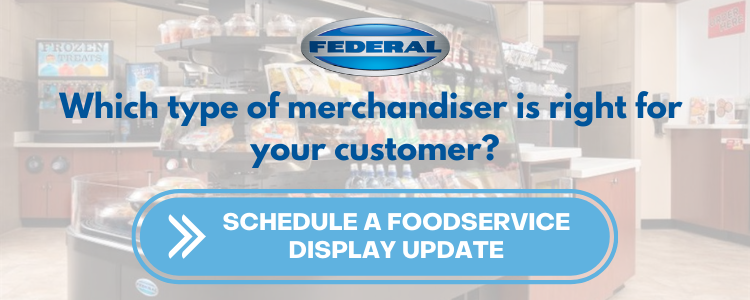 