How Alcohol Trends Will Influence C-Store Purchases in 2022
By Federal Industries May 4, 2022

From the east coast to the west, beverage sales are trending upward. Beverage sales for 2021 increased 3.2% YTD. And while these increases include all beverages, the alcoholic drink segment continued to grow as well.

With these increases, convenience stores need to be sure they have alcoholic beverages displayed in the right cases so customers can make their purchases quickly. Without having the correct merchandisers, c-stores could be losing sales.

The events of the last two years have changed how we shop. Customers are more likely to visit their local c-store for items instead of shopping in larger stores occupied by more people. This trend has led to a shift in products customers are looking for in convenience stores, leading to higher ticket sales per person. Here are some of the alcoholic beverage growth trends that are happening that convenience stores should be prepared to meet.
Beer and Wine
Whether your store has a cooler room or not, positioning impulse items near the store can help increase sales. Having a variety of coolers can help, especially if you have limited cooler space to display such products.
As local breweries begin to can and bottle their own beers, having them on hand can help with sales and promoting local businesses. Consider having them available to purchase individually if someone wants to try before committing to a six-pack. And according to the 2021 Craft Beer Report, while craft beer sales were impacted by the pandemic, sales are trending upwards towards pre-pandemic growth levels.
Wine sales also increased so don't forget this favorite in your coolers. Its 21% growth is the largest in over 10 years so make sure you have a good selection of varietals in different price points.
Flavored Malt Beverages (FMB)
Traditional beers and wines aren't the only alcoholic beverage options that should be available in convenience stores. Flavored malt beverages (FMB) have seen an increase in sales of over 62% over a one-year time period. And hard seltzers account for 40% of those sales. Hard seltzers are even evolving from the traditional fruity flavors and are getting experimental by highlighting herbs. A favorite of adults who want an alcoholic beverage but don't want a beer or wine product, having an FMB option available to c-store customers is a must.
Low Alcohol Drinks
When considering adult drink options, it's wise not to leave out the non-alcoholic drink segment. While it might not seem like something to consider, a 2021 Distilled Spirits Council report showed that over the past year, "low alcohol beers, fermented malt beverages, and ciders have seen a 4.5% increase in sales, while low alcoholic wines have seen an 18% increase." Leaving these selections out of convenience store coolers is a missed sales opportunity.
Have The Right Merchandisers To Store Adult Drinks
No matter if your store has a cooler room for alcoholic drinks, positioning impulse purchases around the store can help increase sales. Having a variety of refrigerated merchandising coolers can help, especially if there's limited cooler space for such products.
Well-placed merchandising is often the best form of marketing. Federal LMD and Vision Series refrigerated self-serve cases available for large and small areas. They have night curtains to help save energy and optional security covers to enclose products when alcoholic beverages cannot be sold or when you are closed.
Offering the trendiest adult beverage choices can help increase sales for any convenience store. Don't let not having enough space hold you back. Designed with impulse sales in mind, the LMD case helps get maximum return from an attention-grabbing merchandiser to drive profits for your convenience store.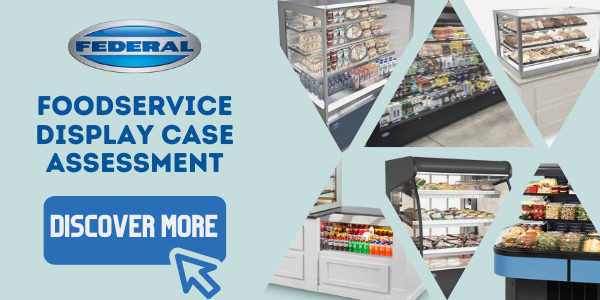 