Making a Case for Grab and Go Breakfast
By Federal Industries Jan 20, 2022

Who doesn't love breakfast for dinner? In the wake of the Covid-19, it seems that breakfast foods have made a roaring comeback, and customers want them available throughout the day. Breakfast food became a favored comfort food as people stayed inside during the pandemic.

In fact, it's estimated that there's going to be a compound annual growth rate (CAGR) of 4.7% between 2021 and 2026 in breakfast food resale. From cold cereal to breakfast sandwiches, customers are looking for their old favorites and new trends throughout the day if it's something they normally ate.

If you're running a foodservice operation in a convenience store, grocery store, or somewhere else where people grab their hot or cold food choice and take it with them, you need to add breakfast foods to your selection to take advantage of this growing trend. Federal has display cases to help.
Vision Series Cases
When you offer omelets, breakfast burritos, biscuits, breakfast sandwiches, or anything else that is desired warm or hot, your customers want them warm and fresh. With the
Vision Series Cases
, you can highlight the breakfast trend and help attract customers to the case. Here are a few benefits of the case:
Customize case color to fit your décor
Digital thermometer controls located in the front for easy access
Top LED light highlights the selection and offers longevity
Three heated stainless-steel shelves that are adjustable to accommodate various sizes of products. Heated bottom deck accommodates larger items
Maintains a heated temperature up to 160°F
Each shelf can maintain its own temperature to accommodate a variety of food items
Each shelf has a price tag rail
Three upper shelves can be slanted at 10° or placed flat
Tempered glass inserts to separate similar but different items

Your new hot-serve Vision Series case can help you market your new all-day breakfast items while making it easier for your customers to grab what they want and get back to their daily tasks.
Refrigerated Self-Serve Case
When you're planning your approach to a new all-day breakfast menu, you don't want to forget the cold items. It would be like dinner without dessert. You want to offer a selection of yogurt, fresh fruit, breakfast parfaits, and cold coffees and teas. Since you're already using the display cases you have, the addition of the Refrigerated Self-Serve Italian Glass Case is the right move. Here are some of the benefits:
Available in six laminate colors
Night curtain to save on energy costs
Adjustable shelves
One bottom shelf for larger items
Maintains a temperature between 38 and 40°F
A new refrigerated case will catch the eye of customers and help improve business.
Non-Refrigerated Self-Serve
The
Non-Refrigerated Self-Serve case
is perfect for donuts, croissants, danishes, cinnamon rolls, and other baked goods. Ideal for grab-and-go service they hold some of the most popular breakfast food items. Everyone wants to eat cake for breakfast! These bakery cases come with multiple shelves and make it easy for customers to take whatever they'd like to purchase, without you having to have an employee constantly monitor and serve. With curved glass styling, removable sliding rear doors to load, and LED lighting, the Non-Refrigerated Self-Serve bakery case is stylish and functional.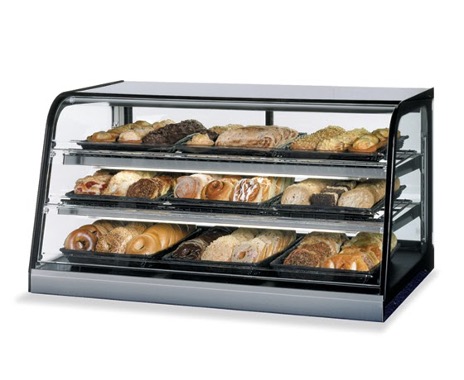 Not sure which unit is right for your application? Schedule a free consultation with a display case expert at Federal, and we'll help you pinpoint the case that will make the difference.
