Introducing the Newest Member of the Federal Industries Vision Series Family!
By Federal Industries Jul 20, 2023

Food is a sensory experience. In addition to the taste and texture, food is ultimately something we eat first with our eyes. That's why it's important for operators to properly merchandise their foods and beverages in ways that highlight and enhance their appearances.

Whether it's a school or hospital, cafeteria or airport -- the right merchandiser can be a big asset when creating a food or beverage display. With the right unit, an operation is more likely to increase sales and engagement among customers. The Federal Vision Series is designed to make grab-and-go far more attainable, and there are plenty of options for operators to get the results they want.
Unleashing the Power of Grab-n-Go Merchandisers: A Game-Changer for School Nutrition Programs
One of the market segments where Federal's Vision Series can have an important impact is in a school cafeteria. School budgets are often strained, so student participation is vital for many districts, and grab-n-go merchandisers can make it easier for school nutrition directors to increase that participation. Better yet, because of the versatility of the Vision Series, schools can also encourage students to make smarter, healthier choices during the day. By presenting healthier options in such a visually appealing way, students are more likely to take them. Since schools have to follow nutrition program guidelines, these displays make compliance much easier.
Not only do these merchandisers make it easier for kids to find what they want, but they can also allow schools to diversify their menus without needing extra staff. For example, students can choose between a standard hot lunch or a combination of hot or cold items from the display case. With so many enticing options, kids are far more likely to buy something.
The Power of Vision: Exploring the Range of Federal Industries Vision Series Models
Although food display cases have been around for a long time, the Federal Vision Series takes them to the next level with multiple innovations and upgrades. Let's look at some important features that can help operators boost sales and increase customer engagement. Some of these features include:
Reverse Fan
Running a condenser all the time can put a lot of strain on the internal mechanisms. By utilizing a reverse fan to disperse dust and debris, operators don't have to worry as much about maintenance. Also, with less debris on these parts, they can work more efficiently and use less energy over time.
Digital Temperature Controls
Now, operators can make their displays colder or warmer with a touch of a button. It's easy to switch back and forth instead of calling a specialist or technician, and the Vision Series can make that happen.
Larger Opening, Smaller Footprint
By reducing each display case's overall size, operators can easily fit them in more places. The front of the case is also larger, making it easier for guests or students to reach in and get what they need.
Exploring the Expanded Federal Industries Vision Series Family
Introducing the newest addition to the Vision Series family of display cases, the remarkable Vision Series Slide-In models - a new level of accessibility and versatility for your food displays!
Our innovative Slide-In units have taken an impressive lineup of versatile food displays and made them even better by seamlessly sliding into your existing counters. But that's not all! What sets these units apart is their unique ability to adjust to match your counter height, offering unparalleled adaptability.
The true benefit of our Slide-In units lies in their ability to add profile versatility to any food and beverage display lineup. Imagine the convenience for operations like schools or hospitals, where different display case heights might be required for children or individuals with disabilities. With our Slide-In models, operators can easily increase or decrease the display case height to cater to specific needs.
Experience the ultimate solution for enhancing your food presentation while ensuring inclusivity and practicality. Embrace the Vision Series Slide-In models and elevate your display game to new heights of accessibility and efficiency!
Finding the right unit is important, and the Federal team can help. Schedule a free assessment today.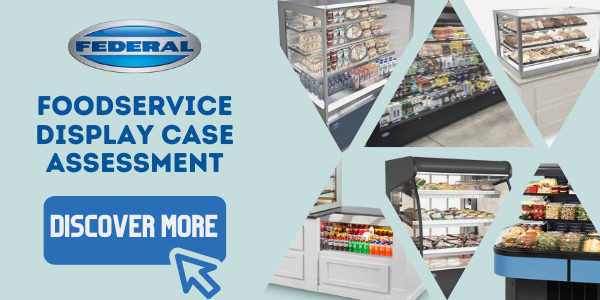 