Profit Potential: Leverage the Beverage
By Federal Industries May 16, 2022

With warmer weather on the way, the demand for cold beverages is about to spike. Yet, beyond the need for people to quench their thirst, the profits that beverages yield are important.

On national and state levels, the beverage industry helps people prosper and survive. According to the American Beverage Association, the beverage industry employs more than 1 million people, including convenience store owners and employees.

More impressively, convenience stores were a major stronghold of provisions during the pandemic. When many businesses were forced to shutter storefronts, c-stores became unwitting champions of supply. Beverage profits in c-stores saw an inside profit of more than 266 billion in 2020.
Packaged Beverage Impulse Sales & Trends Ahead
In the supply chain, c-stores are considered one of the main external drivers for U.S.-based consumers. Recent supply shortages and growing inflation have hit the foodservice industry hard. While there has been an increase in c-store patrons, supply chain disruptions caused beverage shortages. Therefore, the demand has been steadfast, but the supply has been lower than normal.
However, there is hope on the horizon. The beverage industry is a mainstay for consumers. Current and forthcoming beverage trends predict that c-stores can increase revenue by taking note and implementing a few, if not all.
Electric Cars
Electric cars have never been more popular, particularly when gas prices have skyrocketed. Installing charging stations for these vehicles is a smart way for c-store owners to have customers dock at the store. As it takes a little while for electric cars to charge, customers can take full advantage of browsing store shelves, knocking out a food run while recharging their cars.
As this type of move would naturally attract more customers, c-store owners may want to reconsider beverage shelving and display options, too. Upgrading food presentation encourages purchases. Another c-store trend is investing in packaged beverages as opposed to single bottles. Statistics show that U.S.-based consumers are big fans of packaged beverages, particularly energy drinks. Customers get more of the product they want in one fell swoop of a purchase.
Creating A Successful Grab & Go Program
While grab-and-go sales have been rising since 2015, their popularity plateaued during 2020. However, as people go back to work and other regular routines, grab-and-go sales are expected to soar.
Implementing a successful grab-and-go program that includes beverages should be a predictable method for increasing profits.
Starting with a good marketing plan, promote the product to entice current and potential customers. Once in place, make sure the staging area and units are always clean. Give a variety of beverage and food options. If it looks like customers are leaning towards certain products, take notice and invest in more of that product. Don't forget to set up grab-and-go displays where customers can see them — near the storefront and close to checkouts.
Federal Refrigerated Displays
Refrigerated island displays are a fantastic way to highlight beverages and increase sales.
The LMDM Refrigerated Display gives c-store owners roll-down security options and necessary night covers. The unit also generates bursts of cold air to keep food and beverages fresh throughout the day and night.
Federal under-counter displays are another great way to spotlight beverages. Under-counter space is typically underutilized, a last-minute spot for stashing candy bars or magazines. Try switching that impulse-buying spot to feature beverages. Let it work as a last-minute drink stop and watch the beverage profits start rising .
Vision Series Displays
The newVision Series merchandising cases from Federal is worth a look, and it's going to be a big hit with your customer base who offer grab-and-go food options. From college dining halls to convenience stores, this new case line is sure to wow. Whether your customer needs a refrigerated, heated, or high-profile case, the Vision Series cases dramatically enhance visibility from the front and side perspectives. This allows for more engagement, more appeal, and increased return on investment.
The Vision Series from Federal Industries is at the forefront of modern design trends that are taking over the retail foodservice space. This innovative design provides a fresh look at how the shopping experience can be enhanced by clearly displaying merchandise in a clean, minimalistic merchandiser that also seamlessly transitions to your space and décor.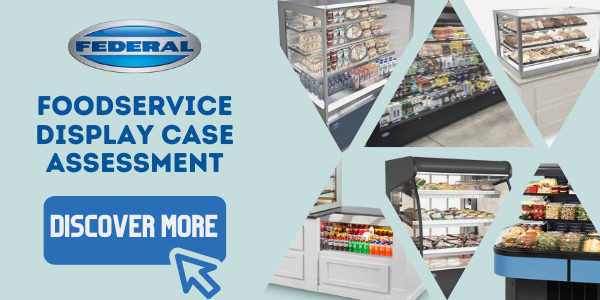 