5 Profitable Hot Food Deli Items to Boost Your Sales
By Federal Industries May 26, 2023

The demand for hot, prepared foods is stronger than ever as today's consumer is more accustomed to the convenience this type of service provides. From c-stores to delis, retail grocers to cafeterias, this desire for convenience on behalf of the customers is an opportunity for profit to the operator.

Simply put, busy customers are prime to make snap, impulse decisions about meals. This means it's important to display foods in an accessible and appetizing way, but what foods are trendy and profitable? Let's take a closer look.
The Most Profitable Hot Foods to Feature in Your Deli Case
1) Winner Winner Chicken Dinner: There's no doubt that chicken is the king of the heated food display case. According to the Economist, "the birds now account for 23 billion of the 30 billion land animals living on farms," and chicken consumption has grown by over 70 percent in the last three decades.
2) Carne Asada: There's no doubting the fact that Mexican cuisine is now as American as apple pie. From tacos to burritos, we consider the foods from south of the border as our own. As such, they're also profitable, and one of the most prevalent display cases finds can be the ever-so-flavorful carne asada.
3) Barbecue Ribs: It's hard to find someone who doesn't like barbecue ribs. Though there are many different styles, from the dry rub of Memphis to the sauced slabs in Kansas City, consider adding ribs to a display case to attract more customers.
4) Sides: If you're going to have ribs, you also need the sides to go with them. Baked beans, collard greens, and even warmed cornbread can provide great upsell opportunities to increase ticket prices.
5) Desserts: At the end of a great meal, it's always nice to have dessert. Whether it's churros to go with that carne asada burrito or beignets to have with coffee, consider warm or hot desserts that can add another element to any heated food display.

The Power of Convenience: How Grab-and-Go or Prepared Foods Drive Profitability
Busy customers need help making decisions. While electronic self-order menus are convenient and popular in restaurants, a hot food display for delis or grocery stores allows the customer to assess several options and decide with their own eyes. This leads to a more comprehensive decision-making process that can help lead to additional impulse purchases. When displayed next to traditional chilled or non-refrigerated grab-n-go foods, it can help an operation underscore foodservice that is convenient and easy to carry.
When stocking a heated display case, consider seasonality. Hot foods are particularly popular at night and during the fall and winter months. The most efficient operations can easily switch out and showcase different types of foods depending on the time of day, the temperature, the season, and even the holiday.

The Art of Display: How an Italian Glass Display Case Can Elevate Your Business
The right heated display cases should preserve temperature, ensure food safety, and enhance the foods they contain to encourage impulse purchases. With Federal's new Heated Italian Glass food merchandisers, operators can achieve these goals, from fan favorites to comfort foods.
These display cases are upscale, high quality, and easy to clean. With a 3500K LED top light and shelf lights, customers in the deli can see the food clearly and make quick decisions. With the cleanliness of stainless steel and the temperature guard of convection heating, hot, profitable deli foods just got more profitable.
Learn more about the Italian Glass Merchandising lineup.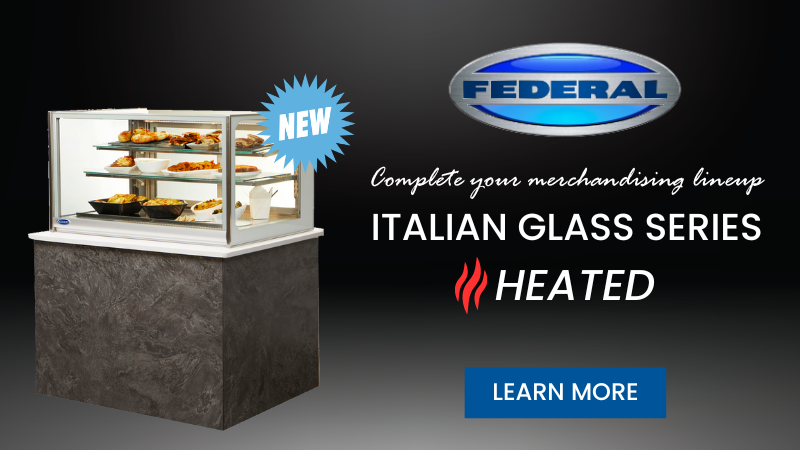 