Shape a Signature Look in Your Retail Food Display
By Federal Industries May 25, 2022

It is essential for operators to understand they need to create a food display design that works for their customers, not what works for their competitors or even a sister store in another area. Each location has unique needs, and a new year gives retailers an opportunity to refresh their design with an updated look that will have long-term benefits.

So, what are the current trends? Operators and customers alike are looking for refreshed designs that include elements like open kitchens, LED lighting, and streamlined display cases that show off the food and does not take away from it. When it comes to food display, Federal Industries' line of merchandisers sets a new bar in retail design for displaying food and beverage. From a single refrigerated bakery case to a hot/cold deli lineup, or a complete custom merchandiser display system, Federal has a merchandiser to fit all your needs.

So how can you create a seamless transition to your space and décor with the customer in mind? One option is Federal's new Vision Series line.
Design Benefits of the New Vision Series
The design of the Vision Series offers a minimalist approach to styling, which can help to increase the appeal of the merchandise inside. In addition to a more streamlined appearance, customers have improved visibility from the front with a lower bottom deck and sides with glass ends. This dramatic approach to visibility encourages more engagement from customers who can see what is offered, from every angle.
Updated lighting and fixtures are important design features for retail food displays. Lighting is ideal for creating a mood, brand, and value. The Vision Series offers LED lighting for more merchandising, better visibility, and shows off the intricate details of your products.
Make the Vision Series even more personalized with a choice of 6 standard laminates plus a wide range of special laminate finishes or optional graphic packages to complete the look. Sliding or hinged rear access doors allow you to load product while still allowing customers access to products.
The Vision Series from Federal Industries is at the forefront of modern design trends that are taking over the retail foodservice space. This innovative design provides a fresh look at how the shopping experience can be enhanced by clearly displaying merchandise in a clean, minimalistic merchandiser that also seamlessly transitions to your space and décor.
Are you looking for a single, refrigerated bakery case, hot/cold deli lineup, or a complete custom merchandiser display system? From refrigerated, non-refrigerated, and heated merchandisers, our design experts will shape a signature look for your store.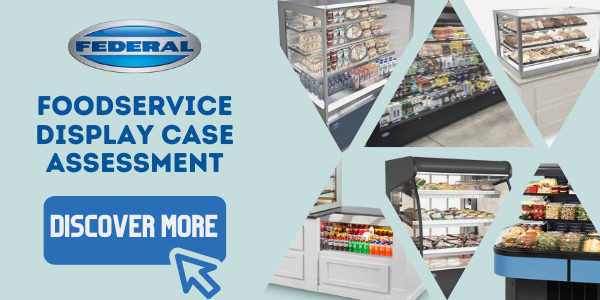 