Drive Sales With Cold RTDs
By Federal Industries Nov 14, 2022

As convenience stores rely more on in-store purchases than gasoline sales, keeping up with the latest trends in consumer purchasing has never been more necessary. Cold ready-to-drink (RTD) options have become a staple for many consumers who want something other than a carbonated soft drink to quench their thirst and keep them going. Providing those customers with cold coffee, tea, and other RTD options can help increase beverage sales and drive food sales.
RTD Cold Coffee Products Are Heating Up
In the form of nitro coffee and flavored offerings in glass bottles, cold coffee products have become the newest trend in c-store cold RTDs. Nitro coffee, whose origin is uncertain, is cold coffee infused with nitrogen gas. The nitrogen gives the drink a smooth and creamy mouthfeel, while its bubbles impart a subtle fizziness similar to carbonation but without added acidity. Capitalizing on the drink's success in coffee shops, brands have begun to package nitro coffee in cans and sell them at c-stores as RTDs.
The other big thing in cold RTDs is flavored coffees in glass bottles. Options such as vanilla lattes or caramel macchiatos that are pre-sweetened and ready to drink have captured where the future of cold RTDs is heading. In 2019, the market for cold RTD coffee was about $22.4B, which is expected to nearly double to $42.4B by 2027. Getting in on the rising growth in demand for coffee-based RTDs is a great way to increase c-store sales, not just in RTDs but also in items that pair well with cold coffee-based drinks. C-stores can keep multi-packs on shelves and sell individual bottles or cans out of a cold display case.
Profits from Other Popular RDT Beverages
As carbonated soft drinks and energy drink sales have declined, they have been replaced with increasing sales of items like cold RTD coffee, iced tea, bottled water, and kombucha. Iced tea has always been a popular alternative to carbonated soft drinks, and new flavors and brands have increased their popularity. Bottled water sold from a cold display is something that c-store customers regularly seek out. Whether flavored or unflavored, bottled water sales have increased as more people have made impulse buys to stay hydrated. Kombucha is a relatively new cold RTD offering touted for its health benefits. Ready-to-drink kombucha comes in many flavors, and there are even some alcoholic varieties that can help c-stores drive additional sales.
With over $260B in inside profit on beverages in 2020, the shift to sales of the newest trends in cold RTDs has helped to make up for shortfalls in other sales at c-stores.
By presenting customers with various RTD options, especially the desired alternatives to carbonated soft drinks, like RTD coffee, iced tea, kombucha, and bottled water, c-stores can take advantage of shifting trends in consumer purchasing.
Display Is Key to Sales
Presenting customers with a well-organized and pleasing display of cold RTDs will ensure they find what they are looking for and help them discover new items to purchase.
The Vision Series refrigerated merchandisers allow customers to grab what they want quickly. Specialty displays enable c-stores to provide a more customized way to sell cold RTDs and pairing options while giving customers complete control over their shopping experience. And by adding under the counter at the point of sale, convenience stores add versatility to their choices and create impulse purchases.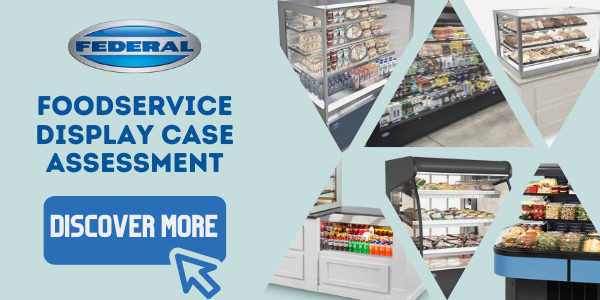 