Attention Dealers: There's Now an Undercounter Merchandiser for Added Versatility
By Federal Industries Dec 17, 2021

In c-stores or groceries, the spaces under the counters are usually reserved for things like second-tier magazines, last-minute candy decisions, and or an assortment of gift cards. The reason these areas go underserved is because there hasn't traditionally been a way to upgrade them with a more enticing type of shelving.

Let's talk about something new, a new suggestion foodservice equipment dealers can make to help your customers reconsider spaces that so often generated minimal profit, or worse, just a collection of dust.
Federal's Undercounter Merchandisers
Now, operators can swap out stale shelving and swap in refrigerated merchandising potential that generates much more profit than a pack of Trident. With sleek, bright, eye-catching designs, customers will quickly turn their attention to these cases and take a second look at places in the store they used to ignore. For dealers, this is an opportunity to show end-users there's a new way -- and a new place -- to merchandise a new array of products in areas where they normally wouldn't exist.
SAFETY
Federal's Undercounter Merchandisers are made with stainless steel and include shielded LED lighting for a bright and sanitary display. Operators can showcase just how clean everything is.
ACCESSIBILITY
By turning undercounter space into profit points, these merchandisers make grab-n-go easy. They're also ADA-compliant.
DESIGN
With the added ability to personalize display cases to match a brand or décor, operators have a wide range of options to choose from, making undercounter merchandisers even more versatile.
The bottom line is customers who aren't even looking for beverages or cold food options will draw their attention to Federal's Undercounter Merchandisers, turning what can otherwise be unappealing areas into profits. Foodservice equipment dealers can be the ones to help operators think beyond the standard shelf.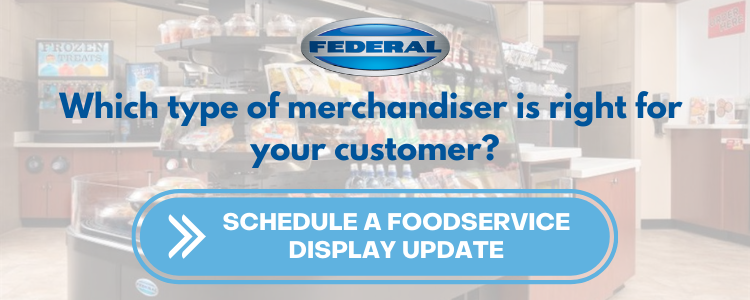 