Understanding the Popularity of the Food Hall Craze
By Federal Industries Jul 27, 2023

In today's increasingly diverse culinary world, diners want to taste it all (and share photos of the food they're enjoying on social media). Food halls allow diners to take their time browsing different options and allow vendors to showcase all that they have to offer on a smaller scale than in a standard restaurant. A food hall setup allows vendors and display merchandisers to show off their creativity and adjust their offerings based on the pulse of the local market.
Beyond The Restaurant -- How Food Halls Are Changing The Dining Landscape
Generally, food halls are large, open market spaces that contain many mini-restaurants and vendors, allowing diners to browse and grab plates from multiple shops. From appetizers to desserts to interesting cocktails, food halls allow diners to try it all without having to commit to having a meal at one restaurant. From Omaha's Inner Rail Food Hall to Famous Food Street Eats in Las Vegas, food halls are becoming a mainstay in culinary hotspot cities around the United States.
Some restaurateurs appreciate how food halls give them the chance to interact with customers, talking about the concepts behind their offerings and getting feedback on what their customers want to see next. Customers love food halls because they typically offer something for everyone--in many instances, a group of friends can grab Indian, European, and standard American options all in one place.
The Allure Of Food Halls
Foodies and culinary craftspeople alike have been working to discover exactly why food halls are so enticing. The social aspect of a food hall is especially compelling in a post-pandemic world. Human interaction is no longer taken for granted, and customers love the chance to interact with friends, family, and food hall vendors.
The cultural diversity offered by many food halls is also a draw--it's not often that diners get the chance to try cuisines from around the world in one outing. Customers may be more likely to try a new type of food when they're in a food hall, as they're not committed to only enjoying that type of food for the duration of their meal. Small plates and quick bites make it simple for diners to work their way through a variety of choices.
Shopping local isn't just on-trend right now--it's also a great way to get fresh, hand-made food that creates a feeling of community. At a food hall, patrons get to support local businesses and artisans, even if they aren't aware of their offerings outside of the food hall. This chance to interact with new patrons can boost vendors' home-based businesses.
Collaborative offerings--such as a weekly happy hour or holiday celebrations--can bring vendors and customers together. Rather than having to develop individual events to get customers in the door on their own, food hall vendors and display merchandisers can simply opt-in to market-wide events.
From Eats To Drinks: Uncovering The Role Of Ready-to-Drink Beverages In Food Halls
As food hall patrons browse their options, they get exposure to a variety of cuisines. While exploring flavors, many customers will look for a quick, ready-to-go, easy-to-grab drink option from display cases to enjoy as they decide what they're going to try next. Since space is often limited in food halls, choosing Federal's under counter display cases can be the perfect solution to showcase displays and increase beverage sales to food hall browsers.
Make sure your food hall, restaurant, or school is ready for more grab-and-go sales opportunities with our FREE assessment: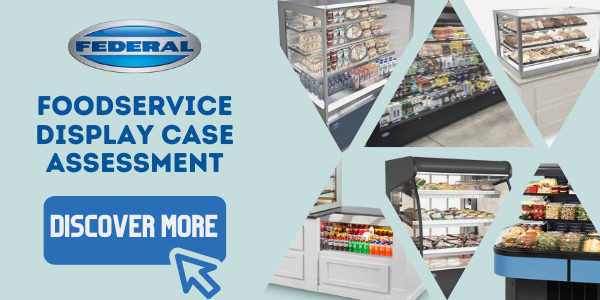 